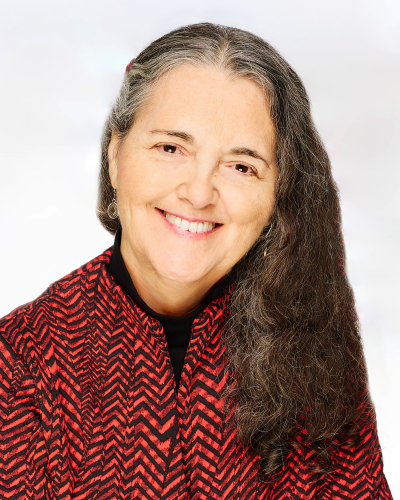 Alicia Vargas, Ph.D.
Dean of PLTS; Associate Professor of Multicultural and Contextual Studies
About
The Rev. Dr. Alicia Vargas is Dean and Associate Professor of Multicultural and Contextual Ministry Studies at Pacific Lutheran Theological Seminary, a member of the Graduate Theological Union in Berkeley, California and a Graduate School of California Lutheran University, Thousand Oaks, California. She served as a Jail and Prison Chaplain in several correctional facilities and previously, taught Spanish Theatre at St. Olaf and Vassar Colleges. Dr. Vargas currently teaches Ministry Across Cultures, Public Ministry, and Spanish for Worship and directs individual student projects in jail/prison ministry and public ministry. She has published articles in the area of Mujerista Christology, and the book published by Augsburg Fortress: Como estudiar la Biblia/ How to Study the Bible.

Ministry outlook
Our multicultural God calls on the church to communicate the love of God in Christ—in, with, and under the rich diversity that embraces us all. Seminary days are brought to fruition as we teach, learn, and celebrate race, ethnicity and culture, one with another. Mutuality of experience intermingles with God's divine presence; we're prepared for great commission work in our diverse nation and world.
Brief Professional History
Dean of PLTS, 2012-present
Associate Professor of Multicultural and Contextual Studies, PLTS, 1997–present
Director of Contextual Education, PLTS, 2003–2012
Chaplain and Director of After-Care Program, Santa Clara County Corrections, 1996–2003
Interim Pastor, University Lutheran, Milpitas, 1995–1996
Adjunct Professor, PLTS, 1992–1996
Assistant Professor of Hispanic Literature, Vassar College, 1986–1991
Assistant Professor of Spanish Theatre, St. Olaf College, 1985–1986
Instructor, Spanish and Portuguese Dept., University of California, Irvine, 1980–1985

Select Special Service
Lecturer, "Biblical Interpretation," lectures for Academia Luterana, ELCA's Online Lay Leadership Academy
Member, Editorial Board, Dialog: A Journal of Theology
Presenter, "Adaptive Leadership" and "Ministry with Latinos," Missional Academy, Grand Canyon Synod, ELCA
Preacher/Forum leader, at numerous ELCA congregations in Region 2
Member, Steering Committee, ELCA's Teaching Theologians of Color
Member, Advisory Board on Leadership Development for the Evangelical Outreach and Congregational Mission Unit, ELCA
Participant, Roundtable for Public Ministry of the ELCA
Advisor to Evangelism Team, ELCA
Presenter, Cabinet of Executives, ELCA
Member, Teaching Theologians of Color, ELCA
Member, Public Church in Public Life, ELCA
Member, Lutheran Social Services of Northern California
Presenter, Hispanic Lutheran Identity Consultation, ELCA
Lecturer, "Christ, Convicts and the Church," Earl Lectures, PSR
Member, Word and Sacrament Discipling Team, Sierra Pacific Synod
Chair, Multicultural Commission, Sierra Pacific Synod
Member, Task Force for Building a Multicultural Curriculum, Vassar College
Member, Editiorial Board, Revista de estudios Hispánicos, Vassar College
Faculty Seminar on International Studies: Liberation Theology, Vassar College
Education
PhD, Literary Criticism, University of California, Irvine
MA, New Testament, Graduate Theological Union, Berkeley
MDiv, Pacific Lutheran Theological Seminary
MA, Spanish Theater, California State University, Long Beach
BA, Romance Languages, California State University, Long Beach
Publications
"Who Ministers to Whom: Matthew 25:31-46 and Prison Ministry," in Dialog, Summer, 2013.
"Cristología en el contexto de las latinas en E.E.U.U." in Martin Lutero Descalzo: Meditaciones sobre la identidad luterana desde el contexto latinoamericano, edited by José D. Rodríguez and Carmen Rodríguez. Santo Domingo, Editora Centenario, 2010.
"Mujerismo and The Two Kin-doms: Distinction and Reconciliation." Dialog, Fall 2010.
"Through Mujerista Eyes: Stories of Incarnate Redemption" in Transforming Lutheran Theologies. Minneapolis: Fortress, 2010.
Como estudiar la Biblia/How to Study the Bible. Minneapolis: Augsburg Fortress, 2009.
"Mujerista." Encyclopedia entry in Hispanic American Religious Cultures. Vol. 1. ABC/CLIO, LLC, 2009
"No Longer Jew or Greek." The Lutheran, July 2009.
"The Construction of Latina Theology." Currents in Theology and Mission. Lutheran School of Theology at Chicago, August 2007: Vol. 34, #4.
"Reading Ourselves into the Cross Story. Luther and United States Latinos." In Cross Examinations. Readings on the Meaning of the Cross Today, edited by Marit Trelstad. Minneapolis: Fortress Press, 2006.
"Introducción a La Disputación de Leipzig-Informe de Lutero a Jorge Spalatin." In Lutero al habla, edited by Giacomo Cassese and Eliseo Perez Alvarez, 71-84. Publicaciones El Faro S.A. de C.V., Mexico, D.F., 2005.