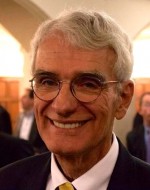 Walter Gary Pence, Ph.D.
Instructor of Biblical Greek; Professor Emeritus of Pastoral Theology
The Rev. Dr. Gary Pence began at PLTS directing the continuing education program and inaugurating the Doctor of Ministry program. He taught courses in a variety of disciplines and served as both Academic Dean and Interim President. He is a licensed Marriage and Family Therapist and taught pastoral care and counseling until his retirement in 2005. Dr. Pence then returned to his first love and began teaching New Testament Greek, a subject he approaches both as an indispensable window into the world of the New Testament and a fascinating exercise that illuminates how we construct our thought across multiple linguistic platforms.
Ph.D. (Classics), Princeton University
M.S. (Counseling Psychology), California State University, East Bay
M.Div. (Ministry), Concordia Seminary
A.M. (Classics), Harvard University
A.B. (Greek), University of Michigan