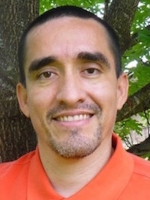 Julián González, Ph.D.
Assistant Professor of Old Testament
jgonzalez@cdsp.edu
(510) 204-0730
Church Divinity School of the Pacific

About
González holds a joint appointment to Church Divinity School of the Pacific and PLTS to teach Hebrew Bible. He completed his Ph.D. with honors in 2015, holds has a bachelor's degree in electronic engineering from Pontificia Universidad Javeriana in Cali, and worked for four years as a software developer at Shell before entering Truett Seminary at Baylor University in 2006, where he and his wife, Viviana Urdaneta, earned master's degrees in divinity.
While volunteering at First Baptist Church in Waco, Texas, González developed HABLA (Hablando Alrededor de la Biblia con los Amigos – Speaking around the Bible with Friends), a program in which members of the local Hispanic community and church members met to share food and read the Bible together. Through common study, they came to understand better how their life experiences and cultural assumptions shaped their understanding of scripture.
González is a member of the Hispanic Theological Initiative, which was founded in 1996 to support Latino and Latina students and faculty members in theological education.
Education
Ph.D., Southern Methodist University
M.Div., Baylor University
B.S., Pontificia Universidad Javeriana, Cali, Colombia