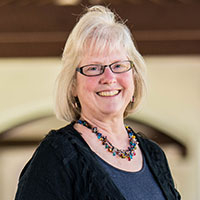 Sanna Reinholtzen, MA, MDiv
Sanna Reinholtzen has been the Associate Pastor for Prayer and Healing at University Lutheran Chapel of Berkeley since 2010. Additionally, she serves as the Executive Administrative Assistant to the President at St. Mary's College of California in Moraga, CA.
Before relocating to the Bay Area for graduate work in liturgical studies, Pr. Sanna served 3 years as lead pastor in a 2-point parish in western North Dakota: Bucyrus Lutheran Parish, rural Hettinger, and 4 years as Associate Pastor in a 1,000-member congregation in central Minnesota: First Lutheran Church, Little Falls.
Sanna's passions in addition to worship and liturgy include family, especially my nieces and nephews, horses, dogs, reading, and Gaels basketball.
She has a Master of Arts degree focused in Liturgical Studies from the Graduate Theological Union, Berkeley, and an MDiv from Luther Seminary, St. Paul, MN. She completed her BA in Physical Education at Augustana College (now University), Sioux Falls, SD.