Community Organizing for Climate Justice as Faith Active in Love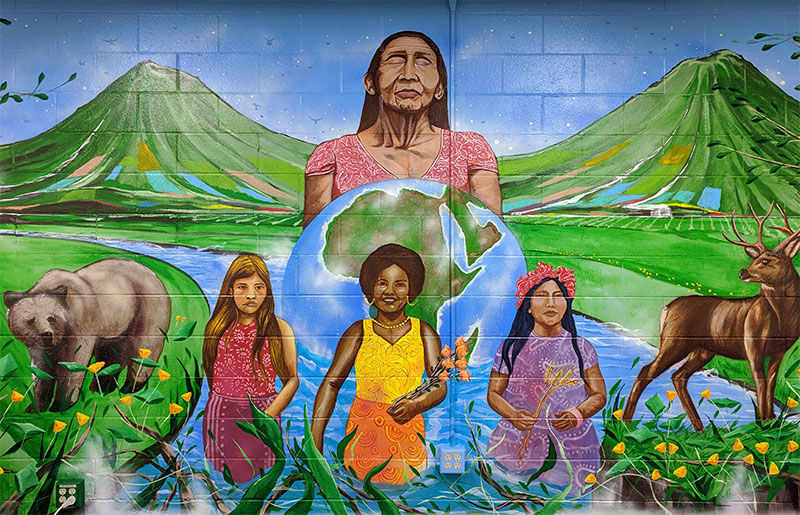 "La Lucha," mural in PLTS classroom by Cristian Muñoz and Pancho Pescador © 2019.
This web-based three-part training in the arts of faith-rooted community organizing for climate justice will equip participants with skills, knowledge, spiritual grounding, and a community of support for organizing to address the climate crisis in ways that build racial and economic equity. A 3-day online training session is followed by a mentored 12–week practice phase and a second online training session of 2 days. The mentored section includes regular (weekly or bi-weekly cohort gatherings for support and building a network of on-going support).
To apply for this inaugural, empowering program, complete the APPLICATION FORM (click here)
Deadline: November 11th, 2022
Contact Kelly Marciales with questions: kmarciales@plts.edu
The Community Organizing for Climate Justice as Faith Active in Love training is part of the PLTS Center for Climate Justice and Faith. To learn more about this center visit: www.centerforclimatejusticeandfaith.org.
Participants Include:
Clergy and lay leaders in Christian traditions and other faith traditions or value systems who appreciate the contributions of critically engaged Christian theologies
Teams from congregations or synods/diocese/districts/regions
Recent seminary graduates in first calls
Seminary interns
Leaders developing new faith communities/congregations or reshaping existing congregations/faith communities
Community organizers who wish to equip themselves better for climate justice work
Organizations sending staff members or board members to the training
Expectations of Participants:
Participants will be expected to attend all synchronous meetings which include three full day and two half day training sessions. Each participant will be grouped into a team who will work collaboratively with an organizer/mentor for 12 weeks. Teams need not work together on the same project but each team will learn from one another and be guided by the organizer/mentor through developing a final project.
Timeframe: Feb 6 – May 9, 2022
First training session ONLINE: Feb 7 – 9th
February 6: 9am-5pm PST
February 7: 9am-5pm PST
February 8: 9am-1pm PST

Twelve weeks of online mentored practice: Week of Feb 13 through May 5, 2022

Second training (online) session: May 10 - 11
May 8: 9am-5pm PST
May 9: 9am-1pm PST
Co-Sponsors:
Pacific Lutheran Theological Seminary (PLTS) of California Lutheran University
Tuition:
$300.00 including both training sessions and the mentored practice period.