Admission Options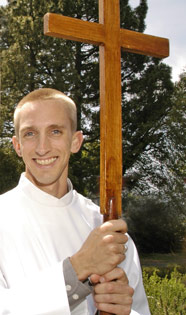 Students come to Pacific Lutheran Theological Seminary in a variety of ways. Some are Resident Students; some are Affiliated Students; some are "Lutheran Year" Students; some are Transfer Students; and some are Unclassified Students. Which will you be? That all depends on your needs, your location, and your time-frame.
For more information about any of these options, please contact the Admissions Office at (510) 559-2730 or admissions@plts.edu
Full Residence Students are those who come to Pacific Lutheran Theological Seminary for the entirety of their seminary education. One might come for programs that last one, two, three, four, or five years. A Full Residence Student does not necessarily live on campus, but is "In Residence" in the sense that he or she takes classes at PLTS/GTU.
Affiliated Students are those who, for financial, familial, or occupational reasons simply can not make the move to Berkeley for seminary. These students will begin taking classes elsewhere, with the intention of transferring those courses to PLTS to complete their degree. By "Affiliating," students have access to PLTS's registrar, who can audit a students course schedule at another school and, thereby, streamline the transfer process into PLTS.
Lutheran Year Students are those who have Affiliated with PLTS, (possibly having completed an M.Div from another institution, but not necessarily), and are now coming to PLTS to fulfill the ELCA's requirement that M.Div students spend at least one year of residency at a seminary of the ELCA. Lutheran Year students spend one year on campus filling in the Lutheran courses that their program at a non-ELCA school omitted. [A Lutheran Year student who has completed an M.Div (3 academic years) at another school will be eligible for the CATS program (one year) followed by internship (one year). A Lutheran year student who has completed only 2 years at another seminary is eligible for the M.Div program, completing the Lutheran courses, the third M.Div academic year, and the year of residency all in the same year.]
Transfer Students are those who have begun study at another seminary and have, in the course of that study, decided to transfer their earned credit to PLTS. Once admitted, you will go through the process of having your courses transferred from your current seminary to PLTS. Transfer students from other seminaries have a streamlined process.
Non-Degree Students is the term we use for a number of students: those who are not certain what program is right for them; those who are exploring seminary very slowly; those who are interested in only taking a class or two; those who are preparing for another degree program; and those who want to augment their current discipline with a bit of theology.